Linden Hills Festival
Thanks to everyone who came out to enjoy the 39th Annual Linden Hills Festival on May 19, 2013. A parade kicked off the fun, and the day continued with pony rides, games, bounce houses, chess and more. The new food options were a big hit, with first-time Festival appearances by Bread & Pickle, Clancey's, Red Wagon Pizza, and Tilia.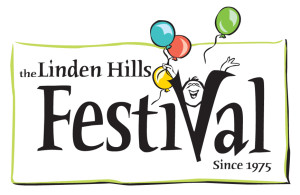 Thank you, sponsors

Many thanks to our generous sponsors:
– Kinderberry Hills Child Development Centers, Mpls & Edina
– Linden Hills Co-op
– Settergren Ace Hardware
– Tod Teeple and Larry LaVercombe, Linden Hills Realtors
We love our volunteers
LHiNC would like to extend a very big thank you to the approximately 150 volunteers who helped make the Festival run smoothly to the delight of so many. From setting up early (in the rain!), to the super-efficient, weather-hastened tear-down, all of our volunteers offered
stellar performances and made the day a smashing success. Thanks for your contributions
to our neighborhood!
And a big shoutout to our fabulous food donors
– Bruegger's Bagels
– Coca-Cola Refreshments
– Coffee & Tea, Ltd.
– Dunn Bros.
– Great Harvest
– Sebastian Joe's
Festival 2014
Mark your calendars and save the date for the 2014 Linden Hills Festival. Festival day is Sunday, May 20th from 11am to 5pm!
Expect to see all of your old favorites at the Festival, and a few surprises to celebrate the 40th year of the Festival!
Festival activities will include:
Art fair/marketplace
Bounce houses
Chess
Food! Food! Food!
Games
Music
Parade
Pony rides
Scavenger Hunt
Silent Auction
Festival volunteers!
The annual Linden Hills Festival requires the help and participation of nearly 150 volunteers! Consider volunteering at this great neighborhood event. Grab a friend and sign up together! Contact info@lindenhills.org to sign up.
AND … the Neighborhood Garage Sale!
The annual neighborhood garage sale has become a special community tradition. The garage sale date is Saturday, May 19, 2014.