Linden Hills Power & Light
LHP&L is a neighborhood-based organization aiming to shrink the local carbon footprint through education, community engagement and action. They promote sustainable energy, waste reduction and energy conservation.
LHP&L spearheaded the Linden Hills compost pilot in conjunction with the City of Minneapolis and Hennepin County. Perhaps you've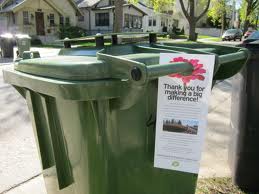 seen the green organics recycling carts in the neighborhood. There are now over 1,400 people participating (50% of eligible homes) and on average divert 5 tons of organics per week to be recycled into environmentally valuable compost. The average home is recycling 9.5 pounds of organic material per week, or 50% of their garbage.
LHP&L works with residents, businesses and schools to compost waste, and works with LHINC and LHBA to ensure the May festival and events like Woofstock and Linden Hills Live are zero waste events. They provide free compost to neighborhood residents at the Linden Hills Festival each May.
Visit their website to learn more about their programs and priorities.